Posted: February 19, 2021
Invest in Honeyfund Alongside Shark Tank's Kevin O'Leary
Honeyfund and its Shark Tank investor Kevin O'Leary have launched a crowdfunded investment opportunity that has already attracted nearly 1,000 investors and $351,000. Now you can invest in Honeyfund's wedding gift registry that helps couples starting out to receive the gift of funds for wedding, honeymoon -- and beyond -- from their friends and family. Visit startengine.com/honeyfund to invest today.



Posted: October 20, 2020
Mr. Wonderful Marries One Lucky Couple on Zoom with Honeyfund's 'Wedding Rescue' Giveaway
We know many couples were determined to get married in 2020, and that even a pandemic can't stop love. So we teamed up with our Shark Tank investor, Kevin O'Leary, to make 11 lucky couples' weddings happen! Honeyfund gave away ten (10) $1,000 grants to couples who share their story, and one grand prize Zoom wedding, officiated by Mr. Wonderful himself! Erica & Ian won the grand prize and you can watch Mr. Wonderful officiate their ceremony here.

Our partners at Jamaica Tourist Board and Moon Palace Jamaica pitched in too, with an amazing honeymoon getaway for the grand prize winners. Congrats to all the winners.

Posted: January 5, 2020
Honeyfund CEO Inspires Kevin O'Leary's Entrepreneurs on Shark Tank Season 11
In a special update, Kevin brings his Shark Tank entrepreneurs together in Miami Beach, FL for two days of learning. Honeyfund's CEO, Sara Margulis, speaks to the group about the personal side of business. The entrepreneurs open up about the toll it can take on family and home life, and share advice and support with each other. Watch Season 11 Episode 8 of Shark Tank on ABC.
Posted: February 12, 2018
Honeyfund + Target Partnership - The Perfect Mashup of Modern & Traditional Wedding Registries!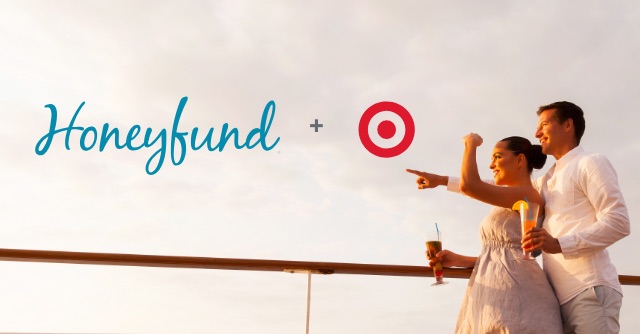 Honeyfund has partnered with Target to take the traditional wedding registry to a whole new level! Announced Sunday night during a special Shark Tank update, Honeyfund's partnership with Target is the latest accomplishment in the company's 12-year history making dream honeymoons happen. (Missed the Shark Tank episode where we made the special announcement? Watch it here.)
Now wedding couples can register for that coveted mixer as well as incredible honeymoon experiences like the balcony suite on the cruise they've always wanted to take, all from one combined registry. The bottom line? Convenience!
"In our 12 years of making dream honeymoons come true we've learned that wedding guests love choices," said Sara Margulis, Honeyfund co-founder. "We're excited to partner with Target to bring the best of both traditional and modern wedding registries together for the convenience of couples and their wedding guests."
"Wedding registry expectations have changed over time," said Dawn Block, Target senior vice president of digital. "Guests are looking for a complete registry experience, including product and honeymoon options, and Target is the first retailer to be able to offer all of this in one place on Target.com."
Start your Target + Honeyfund registry here!
Posted: February 5, 2018
This Sunday on Shark Tank: Honeyfund Partnership Announcement!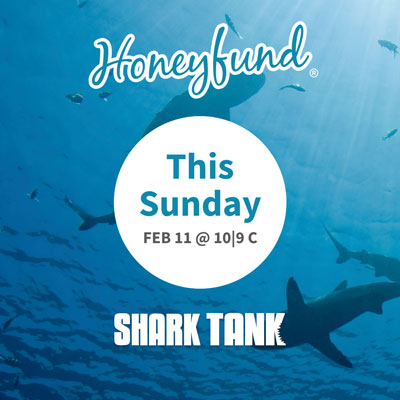 We're making another appearance on Shark Tank — tune in Sunday, February 11 at 10 p.m. for a special update on Honeyfund!
We can't wait to share a SUPER exciting announcement with you all! Hint, it's a new partnership we think ALL wedding couples will be pretty excited about. Watch and tell us what you think on Twitter, Facebook and Instagram @Honeyfund.
Posted: May 17, 2016
REAL Life Beyond the 'Shark Tank'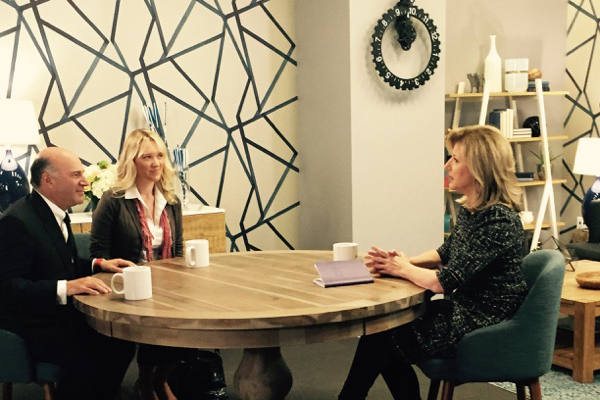 If you've been watching ABC's follow-up reality show "Beyond the Tank" you probably have a new appreciation for what entrepreneurs go through after appearing on ABC's award-winning "Shark Tank." As a Shark Tank winner I get a lot of questions like, "do they really know nothing about you when you walk into the tank?" or "is the deal we saw you make on TV really, really real?" Beyond the Tank answers those questions, even offering too much information at times, about how REAL it can get after getting a deal on Shark Tank.
For Honeyfund and Plumfund, life beyond the Shark Tank got really real, really fast. As entrepreneurs who did it all to start and grow Honeyfund for eight years before appearing on the show in 2014, we knew what busy was; We were experienced working 80 hours a week while raising small children. But we had no idea how much harder we would work post-tank. Aside from the "nice to have" problems like more customers and the added man-hours to serve them, there were pressures we didn't expect. For example we were no longer the only people who cared about our success; While it was exciting to have a Shark like Kevin O'Leary in our corner, we had a natural fear of falling short of his expectations.
As our company grew, we also felt pressure to provide sustainable employment to our team members. Our company is one of very few high-tech employers in our little town, and our team is like family. It would crush us to let them down. And then, of course, there's the pressure to spend the investment money wisely. You'd be surprised how many ways there are to throw hundreds of thousands of dollars away.
If you're thinking "I'd love to have any of these problems," I get it. All the above are part of the deal, and despite them, yes, it's still a deal we'd take in a heart beat. But do you want to know what the REAL challenge has been? Staying true to our mission and values. For Honeyfund, our mission is simply to help wedding guests make a couple's dreams come true without high fees. With Plumfund, we aim to provide simple, low-cost, and customizable crowd-gifting for all of us who strive to make a difference in the lives of others. We value offering the best service at the lowest price. We are completely committed to customer success. We care fiercely for the human feelings involved in giving and receiving money online. Yet seemingly every day we are faced with decisions that could improve our revenue at the expense of any one of those.
Learn more about the real trade offs we've had to make – including a risky business model change to Honeyfund – on Beyond the Tank, Friday May 20 at 8 pm/7 pm central on ABC.
Posted: September 12, 2015
Honeyfund is Kevin's Favorite! Tune in Sunday, September 13 at 8|7c during Shark Tank Week to watch Mr. Wonderful's favorite episode from Season 6, Honeyfund!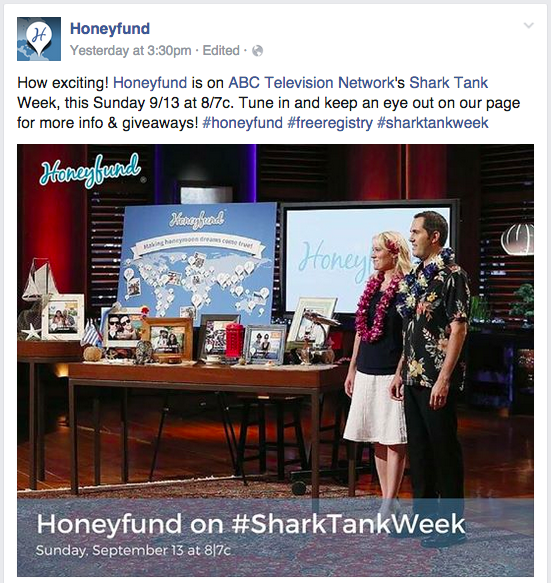 Posted: February 1, 2015
Shark Thank Update!
Tune into ABC's Shark Tank February 1 at 10|9c after the Super Bowl, for an encore presentation of Honeyfund founders Sara and Josh Margulis' pitch to the Sharks!
We're thrilled to announce the launch of Honeyfund in Spanish: Fondo de Miel! To celebrate, new users of both Honeyfund and Fondo de Miel will receive a $30 discount on our Elite package, good through Feb 8.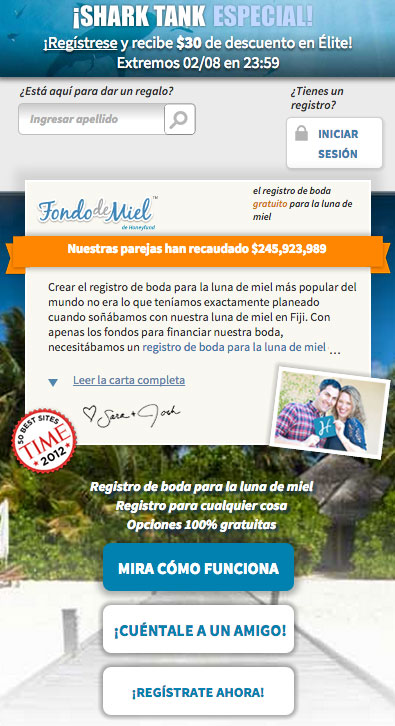 And don't miss our Plumfund special: Sign up and you could win $250 toward your campaign!
What's life like after Shark Tank? What have we done since closing our sweet deal with Kevin O'Leary? We're glad you asked! As planned, we hired additional software engineers and have done some great things with the extra hands. Check out this new social-enabled campaign update tool that allows Honeyfund couples and Plumfund organizers to keep their givers updated about their progress: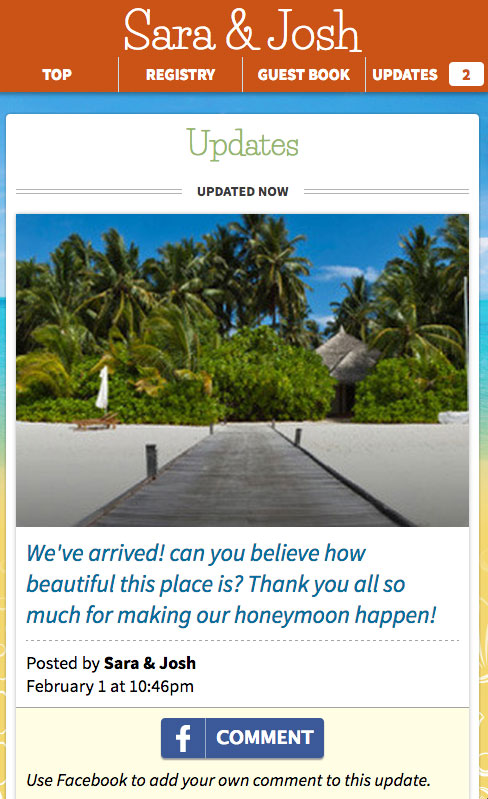 Our appearance on Shark Tank has been huge for site traffic and customer volume on both sites (2.5x year over year). It's amazing to have the support of 8 million Shark Tank viewers! We promise to continue to work hard to improve our free crowd-gifting tools and take the company to the next level!
Cheers! - Sara & Josh
Posted: January 28, 2015
It's Shark Tank rerun time! Catch us on ABC, Sunday, Feb 1 at 10/9 pm central. We're thrilled to share our Shark Tank success story with viewers one more time! Check out our "in the tank" photos, re-posted to our Honeyfund and Plumfund Facebook pages! And tune into this page on Sunday for a Shark Tank update, as well as special offers from Honeyfund and Plumfund!
Cheers! - Sara & Josh
Posted: December 10, 2014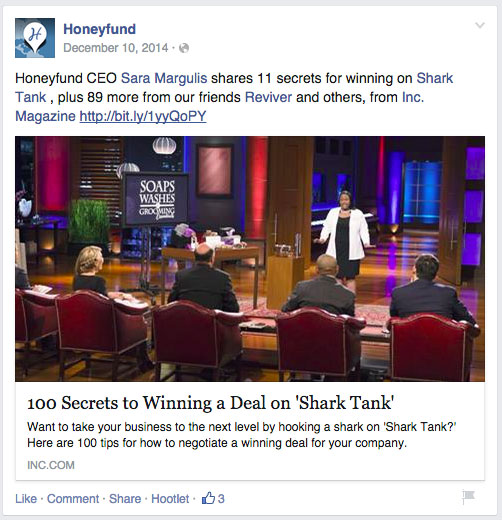 Posted: November 5, 2014
Extra! Extra! We've closed our deal with Kevin O'Leary! Read the full release.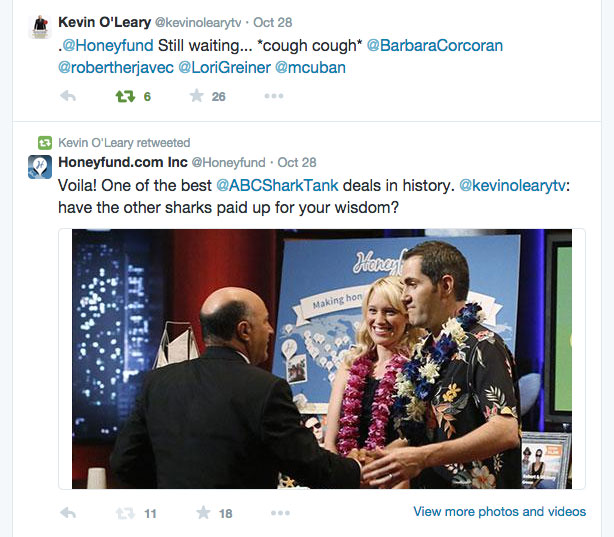 Posted: October 24, 2014
IT'S SHARK TANK TIME!
We're so dang excited, we're giving away two SPECIAL OFFERS in honor of our Shark Tank episode, tonight on ABC 9|8c:
Enjoy! - Sara & Josh
Posted: October 23, 2014
VIDEO: Sara and Josh on the set of Shark Tank, getting ready to walk into the Tank!
VIDEO: Sara and Josh talk about what it was like to actually walk into the Shark Tank!
Posted: October 22, 2014
Sara and Josh trying on wardrobe options. This was the winner! That sweet Hawaiian shirt courtesy of a late-night trip to Tommy Bahamas Manhattan Village.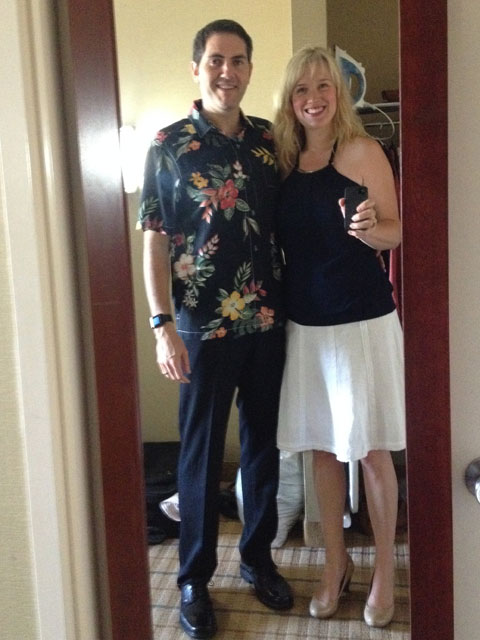 At the florist, finding leis for the Sharks!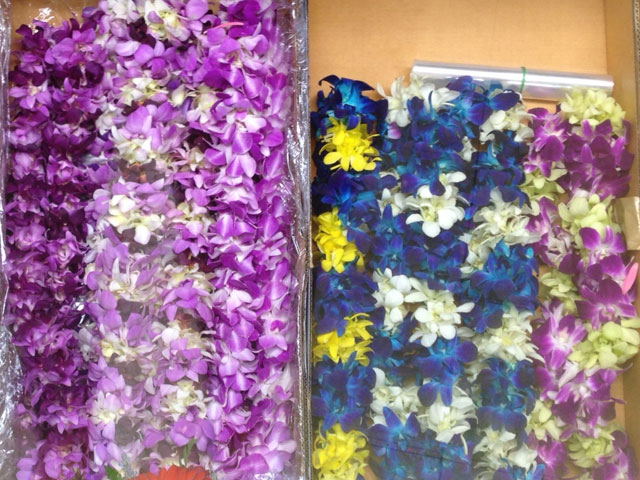 Posted: October 21, 2014
VIDEO: Jimmy Kimmel to appear on our Shark Tank episode!

Posted: October 20, 2014
Click an image to check out new "in the tank" photos posted to our Honeyfund and Plumfund Facebook pages!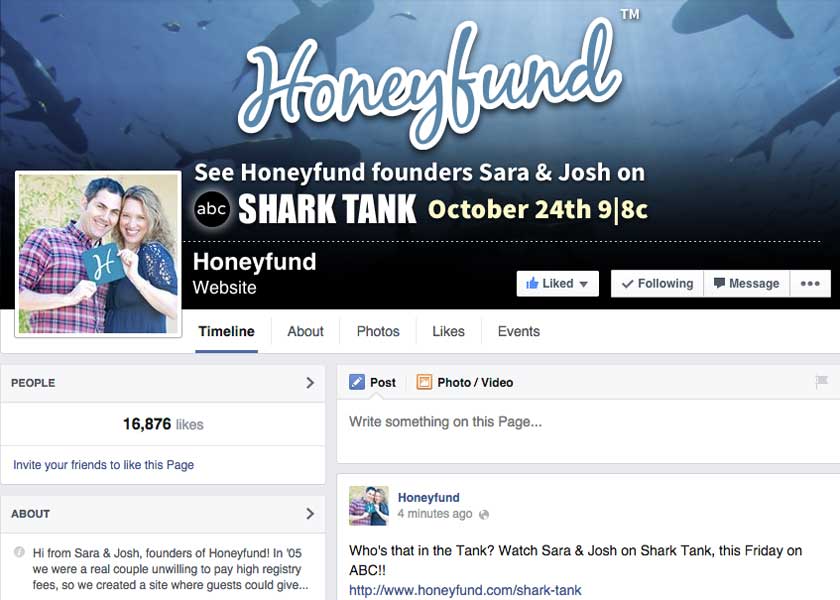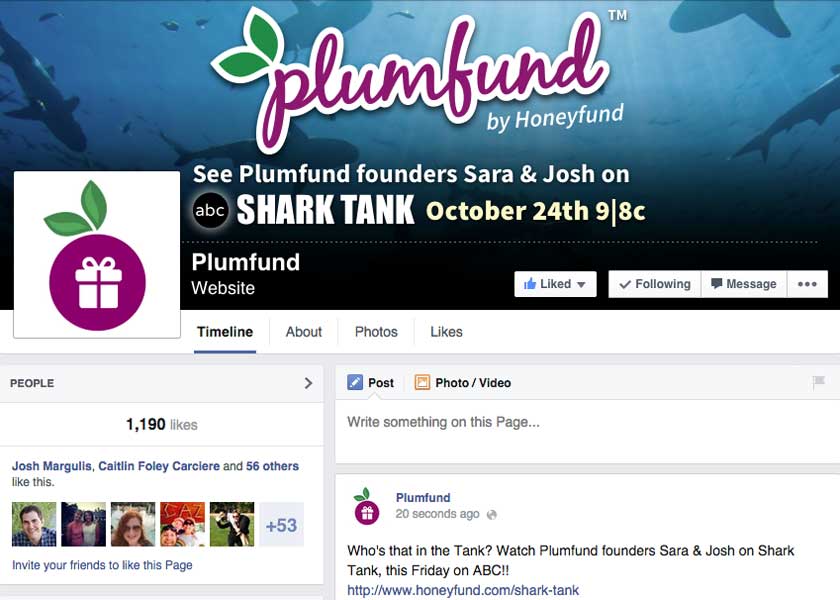 Posted: October 19, 2014
Today we e-mailed hundreds of thousands of current and former Honeyfund couples about our Shark Tank episode. Within minutes our e-mail box was overflowing with love and support from our couples! Check out this gem: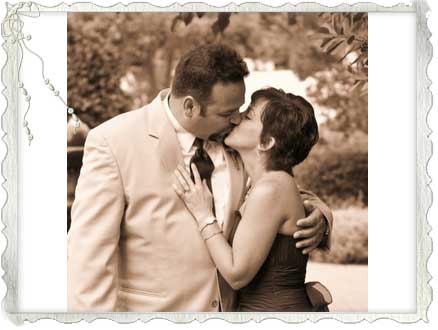 "If they don't invest big in your business I will be completely SHOCKED! As a second wedding for both my husband and I, Honeyfund was the perfect resource...we had a great honeymoon thanks to your wonderful company/idea/site and I will definitely be tuning in to watch your episode!" - Jamie and Kevin
Aaaw, thanks guys. Cheers! - Sara & Josh
Posted: October 17, 2014
Sara & Josh getting ready to fly to LA, picking up the photos used in their set display.

Ready to Get Started?
Start your free Honeyfund wedding registry now!
Or, raise money as a present for an upcoming birthday, anniversary, baby shower or other life event! Start your Plumfund now!